New Design for 9:30 AM Worship Team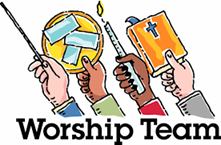 The worship of God is core to our identity as a Church. As a community that is seeking to rediscover what it means to be church in the 21st Century we are on a journey to discover how best to structure our worship planning for each stage of our congregation's life.

In September of 2017 the one-year trial for the elected Worship Team concluded. In the December 2017 Elders meeting it was decided that a new structure for the worship team would be given a two-year trial.
Going forward the worship team will consist of a representative from each of the ministry areas that participate in our current 9:30 AM worship service. This will include but not be limited to:
Worship Leader
Music
Drama
Tech
Communion/Offering
Message
Fellowship
The idea behind this structure is that it utilizes people who are already working in areas of ministry for which they are gifted. This structure allows for change and growth as our congregation changes and grows. This structure still allows for seasonal or special service volunteers as needed. The new Worship Team will be meeting once every 6 weeks to plan worship services for the 9:30 service. Our 1st Wednesday Service will be overseen by this team until the time comes that it needs to be separate.
Our 9:30 AM Worship Team's mission statement is:
We will follow God's path to planning and executing meaningful God-centered worship services to nurture the spiritual growth and development of the congregation. We will be open to growth and change as God's spirit leads, being as inclusive of the congregation's God given gifts and talents as possible.
Questions or comments are welcome! Please contact Pam Gibbs at [email protected] or call Pam between 1 PM and 7 PM. Ellen in the church office or Pastor Stasia would be happy to share Pam's phone number with you.
---
Tags: Engage / Our Worship Services / The Arts / Newsletter / Latest Posts