Worship and Baptism Service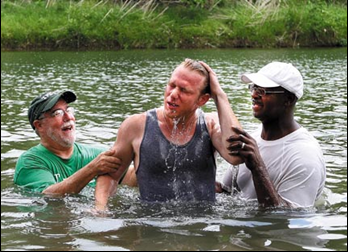 Potluck at the Pavilion
Sunday, July 15 starting at 10:30 AM
Sugar Bottom Day Use Area, Loop, site 39
Carpool DEPARTS from Teahen at 9:30 AM.
Please be there by 9:20 AM if you want a ride.
Bring something to sit on (blanket, lawn chair), a potluck item to share, and a place setting for yourself. There will be a sign up sheet available at Worship.
If you are not able to bring these, come as you are!
Volunteers needed to help with transportation and set-up.
Directions from Teahen on F Ave. NW:
Go to I-380 South.
From I-380, take exit 10 towards Shueyville / Swisher.
There is road construction on Mehaffey Bridge Roadso you must take the long way around.
Head east on 120th St. NW for 5.5 miles. The road will eventually come to a T intersection.
Turn right onto Ely Rd. NE and travel south for 2.5 miles.
At the round-about, take the Hwy 382 NE exit towards Solon.
(this will be on your left when you enter the round-about)
Travel on Hwy 382 for 2.1 miles and turn right onto Racine Ave NE.
(you will likely drive through the school property)
Travel 0.5 miles on Racine Ave NE and turn right onto 180th St. NE / Mehaffey Bridge Rd. NE.
Continue to follow 180th St. NE / Mehaffey Bridge Road for 4.2 miles.
You will drive past Lake McBride's camping and sailing area. Keep driving.
Watch for the Sugar Bottom Entrance Road & Sign - it will be on your left.

Follow this road until you get to the beach and Pavillion #39.
---
Tags: Baptisms, Weddings, and Funerals / Engage / Events / Newsletter / Our Worship Services / Latest Posts